Derzeit wird viel Stunk wegen einigen Problemen mit Apple's Maps App für iOS 6 gemacht (siehe auch
meinen Kommentar
). Aber im Google Maps Lager ist nicht alles grün, so z.B. diese Bezeichnung für den Frankfurter Flughafen: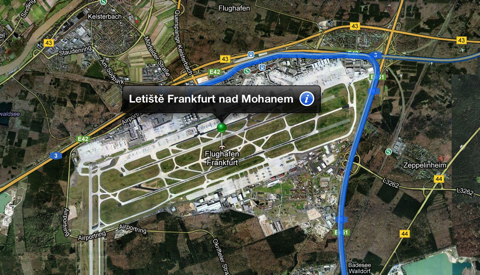 Das kam von Google Maps auf meinem iPad, als ich herausfinden wollte, wie lange ich vom Frankfurter Flughafen nach hause fahren würde.
Einiges an Recherche brachte die Sprache ans Tageslicht: es scheint Tschechisch zu sein. Siehe auch
hier
.
Warum nun eine Tschechische Bezeichnung auf einem iPad (dessen UI auf Englisch eingestellt ist) in Deutschland kommt, ist mir ziemlich unerklärlich...
Apple has taken quite a bit of rap for their map quality in iOS6, the internet is full of complaints.
This one is pretty funny - it details a route from San Francisco to Sausalito (the two happen to be connected by the Golden Gate bridge).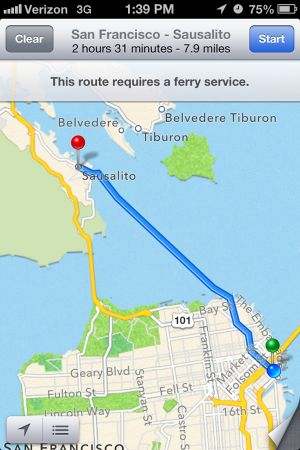 According to Apple, the only connection is by Ferry boat (leaving from Pier 41). Makes me wonder if the map material used in iOS6 is from pre-Golden-Gate times? Or perhaps the route type chosen was "most scenic"?
Who knows, all I know is, I'm waiting for iOS 6.1 before I update my iPhone!
The screenshot isn't mine by the way. I'd credit it, but unfortunately, I don't recall from which of the 10+ blog entries on the topic I "borrowed" it from. Sorry, dude (or dudess).