Die Zeiten von "I am the brother of the president of Nigeria" sind zwar nicht vorbei, dafür werden die Phishing-Betreiber "intelligenter" was die Aufmachung ihrer Emails angeht.

Heute ist diese Email bei mir angekommen: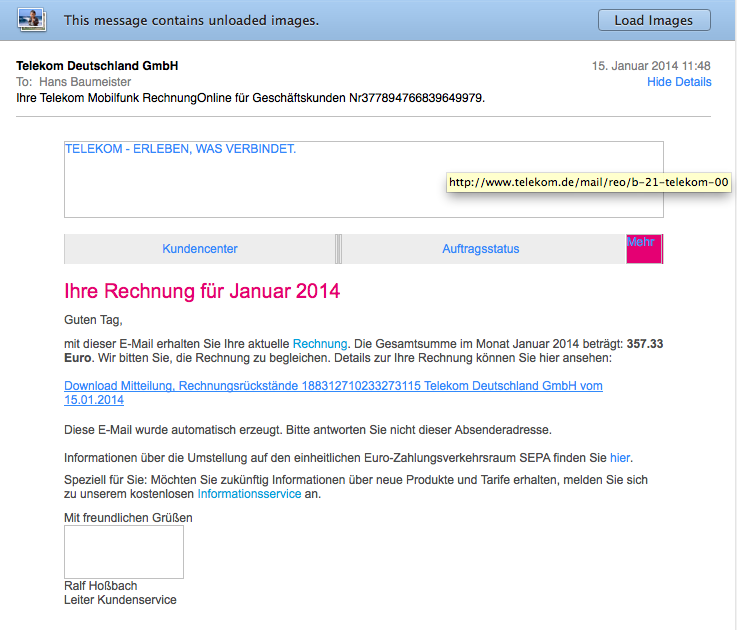 Ich habe explizit die Bilder nicht geladen, da in Bildaufrufen oft eine Kodierung versteckt wird, die Rückschlüsse wie eine Empfangsbestätigung ermöglicht. Zum anderen aber, um aufzeigen zu können, dass die Bilder tatsächlich von telekom.de gezogen werden (die gelb hinterlegte Anzeige kommt beim Mouse-Hover über dem Bild und gibt die Quell-URL an).

Lediglich der Link für den Download zeigt nicht auf die Telekom, sondern auf die URL
http://581khg.nuusi.net/telekom/
(bitte nicht testen!!!).

Wäre ich Telekom-Kunde, hätte ich ggf. ungeprüft draufgeklickt. Um so wichtiger ist die Funktion, die jeder moderne Mailclient bietet: via Mouse-Hover sich ein Bild von der URL zu machen, die tatsächlich beim Anklicken aufgerufen wird. Oft werden nämlich http: URLs angegeben, hinter denen sich ganz andere URL's verbergen.