Two things really annoyed me about this hotel:
1) they don't have non-smoking rooms
2) nomen non est omen - not sure if there ever was a park anywhere in the vicinity - there certainly isn't now. The hotel is in a commercial area that has all the flair you can expect from concrete buildings with colorful advertising signs.
Regarding the missing non-smoking rooms, this is the plakard they likely have in every room: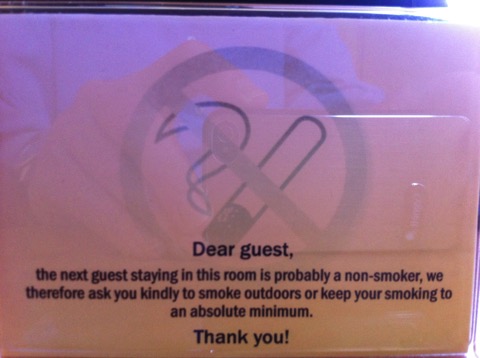 What the heck does that solve? Keep your smoking to a minimum?
I had a chat with the lady at reception about it - after beating around the bush with exclamations like "what do you think smokers would do in a non-smoking room, not smoke?", she admitted that they had no non-smoking rooms at all.
On the plus side, they put a high-tech looking ionization device in my stinky room for about half an hour after I left, which seemed to help quite a bit. And, luckily, no one to the left or right of me smoked at night (which tends to stink worse than when it happens in the same room).
Still, I cannot recommend this hotel to any non-smokers out there.
The bathroom was ok, with a thermostat in the shower. Even though the room faced the rather busy road, the windows did a fair job of keeping the noise out.
The next olfactory assault came about the next morning, when I distinctly smelled bacon and eggs - from bed!
That smell turned obnoxious as soon as I got to the hallway; apparently, the kitchen smells from breakfast drift straight up the stairs (I was on the 3rd and final floor), unimpeded by the fire doors as these were kept wide open, to collect in a smelly dinge at the very top of the building - which happened to be my hallway. Yikes!