Stayed: February 2017

Located in a pedestrian zone, the hotel is centrally located very close to the Danube and the Szabadság híd (
Liberty Bridge
). The room (104) was quite spacious with very high ceilings. Windows were doubled up (i.e. old windows outside, new windows inside), but with a metal bar about 20cm behind the window so that it isn't possible to open them more than a crack. With the relatively quiet location and the double windows, the noise level from outside was quite low.




The decor was quite lively but not unpleasant, the bed (in my case a double bed) comfortable. There was a power outlet at the desk (yeah!), a TV (that I didn't use, so I can't say anything about channels) and an espresso maker. Two packets of espresso as well as a half-liter bottle of water were free with the room.

The bathroom was clean (as was the room) and modern. The only nuisance was the water tap, which had a "function follows form" character (see picture): there wasn't a lever to turn the water on or off, just a cube. The same bad design was used on the tap in the shower, which was easier to operate because the cubes just needed to be turned. No thermostat control in the shower, but the temperature was pretty constant.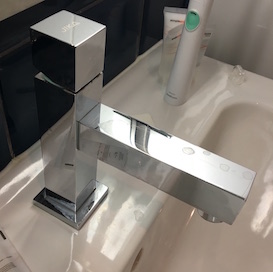 The room has AC that works well (also as a heater) and free Wifi that is quite performant for a hotel connection.

Personnel was friendly all round. The only real let-down was breakfast: this was, in my opinion, rather overly simple - it almost reminded me of breakfast in Italian hotels. I've stayed in Budapest many times and usually, there is more to breakfast than what was offered here.

All in all, though, a hotel I recommend and will be staying in again.

Stayed: February 2015

I'd stayed at a different Mercure before in this city (there are three, apparently) and had good memories from that stay, so I chose this Mercure hoping for a similar experience. No such luck.

I've been traveling Eastern Europe frequently in the last months… I haven't come across a branded hotel this shoddy. The hotel was built in the 90's and nothing seems to have been renovated since then.

The carpets in the hallways are horrid - huge spots everywhere, walls damaged. The picture continues in the room. The carpet in my room (424) just beyond the bathroom door sported a huge spot, there was another one on the one side of the bed. Honestly, I don't even want to know what those are from.

The furniture (a small desk, a sideboard, a place to put your suitcase) is all scuffed up. There is literally no place to hang your winter coat (the closet space is barely large enough to handle hanging business clothes for three days).

The bathroom followed suit. Here, too - cracked or completely missing silicone everywhere, an old-style, flat-flush, floor mounted toilet (yum) and a friend for life: a cockroach (in Winter? honestly, folks?). The bathroom had a latent "drain" smell, as if there was a leak from a waste pipe somewhere. The shower was "encircled" by a curtain (I HATE shower curtains).

The room I had was towards the "courtyard", an area that more closely resembles an industrial facility, with unadorned pipes running everywhere. Okay, I'm not here for the view, I guess. The courtyard opens up all the way down into the underground parking, which is where taxis come to pick up as well.

There is a window that you're supposed to be able to open a slit to get some fresh air, but the handle was missing. Luckily, I was able to pry it open with my fingertips, otherwise I wouldn't have gotten any fresh air in the room!

There is some sort of compressor running 24/7 in the courtyard somewhere - so unless you're wearing earplugs, don't plan on keeping the window open over night. Oh, and on the third morning, someone emptied two - apparently huge - waste glass containers into a truck. Good morning!

Not only the window, also the walls passed noise like they weren't there. Really annoying: getting the clanging of someone hanging up their clothes in the closet next door waking you up at 1AM. Not to blame that person - when you arrive late, you still need to hang up your stuff to keep it from getting completely wrinkled. Proper hotels have proper walls and noise dampening behind the closet!

The bed was another problem. Besides the fact that it was strewn with colored pillows (okay, I'm exaggerating - there were only two) that are too small for any pillowing work and just have to be put somewhere else every evening, the mattress was extremely hard. That's ok if you're a back sleeper - I tend to sleep on my side at least half the time, so this really pained me. Because of a missing headset (see below), I also lifted up the mattress and found… plywood! Yup. No boxspring, no slatted frame - plain plywood. Match that to the rather thin mattress and you have major sleep discomfort.

Then there was the episode of The Missing Headset. I'd left my bluetooth headset on the bed by accident (I was about to put it on when the mobile phone rang, so I ended up forgetting about it). When I came back that evening, it was gone. I reported this to the front desk and apparently, they "checked on it", but it was - who would have guessed - not found. It was a nice Plantronics one that set me back €60, so I'm pretty annoyed here.

Very much to my surprise, breakfast was actually very good - the only upside to this hotel in my opinion. I will not be staying here again.


BancTec held the 2012 EMEA sales conference at this hotel in the center of Budapest, right around the corner of the Westend trainstation on the Pest side of the Donau.

The hotel is directly connected to the large Westend City Center (basically a huge shopping mall) - you can enter the center straight through the hotel's "back door".

The room was large enough and nicely appointed, however:
1) my room faced Vaci street, a very busy thoroughfare. Apparently, there is a hospital somewhere near, as the sound of ambulances passing was relatively frequent. Unfortunately, the windows are anything but sound blocking, which gives you a constant noise level throughout the night.

2) there was a distinct sewage smell in the bathroom. I tried getting rid of it by putting some water in all three siphons that might be dried out: sink, bathtub and shower - but to no avail. The smell stayed with me my entire stay. To be fair, I didn't bother telling reception about it until I checked out, perhaps they would have fixed it immediately.

3) the shower door was distorted (I'm completely at a loss at how something like that can happen), leaving a large gap through which water got onto the floor. Not my problem, but annoying anyhow.

Also, while I did not have that issue in my room, some colleagues complained that they were unable to turn the heating off in their room. The term "sauna" fell more than once.

The conference area is nice enough, no complaints there. Breakfast is fantastic, we had one dinner on-site which was ok as well.

I have stayed in other hotels in Budapest (such as the Mariott) that are nicer and better "in shape", but the Hilton is nice enough to get a recommendation.

Mind you, it is imperative to mention "Westend" multiple times to anyone wanting to visit you, as there is another Hilton on the Buda side that apparently is much better known to locals than the one I was at...