Experiencing CeBIT Eurasia (Oct. 7-11) at Istanbul's Bilişim conference center was quite interesting - as well as productive.
We exhibited with our Partner in Turkey, Trios A.S. at the Germany booth.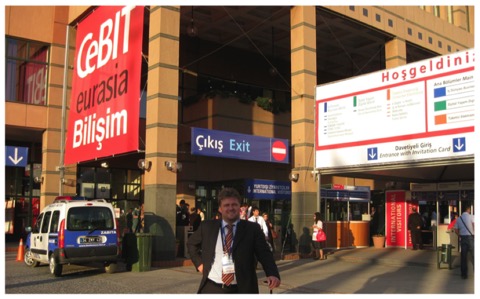 I'm a seasoned exhibition goer, both as an exhibitor as well as a visitor. I've been to many trade fairs in Germany, I've been to CES in Las Vegas. Heck, I've been doing CeBIT in Germany - with very few exceptions - every year since 1992.
Especially as an exhibitor, you tend to get a detailed view of the trade fair that a visitor never gets: setting up and tearing down. This is always fascinating to me, as you rarely get to see such order generated out of chaos within a very short period of time. Anyone that has been part of the setting-up process at the world's largest trade fair, CeBIT in Hannover, Germany, knows this.
Unfortunately, trade fairs like CeBIT and DMS are becoming more and more of a "drag" to exhibitors, at least the ones in the ECM market. The reason for this is dwindling numbers of visitors and exhibition concepts so far removed from reality that it hurts.
CeBIT Eurasia in Istanbul was a real eye-opener for me, in that it took me back to the good days of CeBIT: here, many visitors are seeing technologies and solutions "live" for the first time, with the associated buzz. Hallways are packed, booths are swamped.
The whole thing has a touch of "wild west", but in a good sense: where organisation of most aspects of an event are hugely overdone in Germany (have you ever filled out the forms required to get even a tiny booth at CeBIT?), here things are "self-organising". Sure, if you need something specific (such as ADSL access), you get the "pass around".
People seemed to be even more specialized than usual: The cleaning people passing by our booth weren't able to lend us a cleaning rag for a minute to wipe our table off, as they weren't instructed to do so...
But in the end, you get what you came for: new contacts and business leads.
Since business in Turkey is much more relationship-based than in Germany, CeBIT Eurasia is a good first step towards building business here in the region!